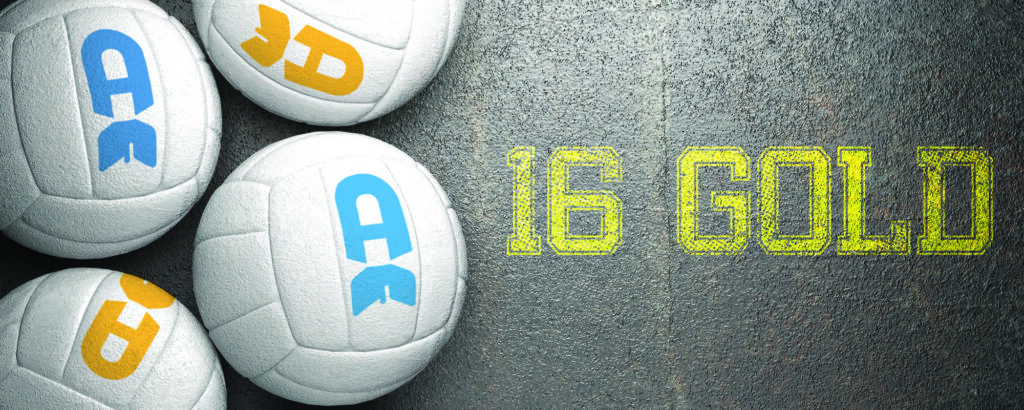 16 Gold Roster
| | | |
| --- | --- | --- |
| Name | | Jersey # |
| Eryn | Dawson | 23 |
| Arrianna | Fields | 16 |
| Hayden  | Hicks | 8 |
| Sydney | Huck | 7 |
| Nicole | Kula | 15 |
| Sophia | Lippert | 5 |
| Madelyn | Lyon | 17 |
| Reese  | Miller | 10 |
| Crysta | Nickerson | 11 |
| Katelyn  | Reeve | 36 |
| Haley  | Stevenson | 3 |
| Emerald  | Zhang | 6 |
Practice Schedule
Mondays & Wednesdays 8:00 PM – 10 PM & Strength and Conditioning 7:45PM- 8:15PM @ The Sport Resort Craig Ranch
Skip Freeman, Head Coach
Skip Freeman has been involved with the sport of volleyball as a player and coach for nearly 30 years. He started coaching with USVBA club teams in 1995. In the past decade or so he has been a director of two different clubs in both Oklahoma and Texas. As a coach he has qualified numerous teams to the GJNC, winning several qualifier championships and medals. Click here for Skip's resume.
Ellen Dreyer, Head Coach
Ellen Dreyer is a 2011 graduate of Fort Hays State University. She was a volleyball letter winner for the Tigers and earned her Bachelors of Fine Arts Degree with an emphasis in sculpture.
Following her college volleyball career, she was the High School Varsity Volleyball Coach at Ellis High School for 4 seasons racking up an overall record of 80-50 including a school-record 28 win season in 2012 and a substate runner-up finish in 2013. She has coached numerous all-league players and led her team to a number of tournament titles.
In the Spring of 2014, she joined the DePauw University Tigers as the assistant volleyball coach. During her time at DePauw, she helped lead the Tigers to an overall record of 71-27, including 3 NCAC conference runner-up titles and 2 NCAA National Tournament appearances. She assisted in coaching 2 All-Americans and several All-Region, All-Conference and All-Tournament team players. Aside from her coaching responsibilities at DePauw, she also helped on the recruiting front bringing in a wealth of talented players to join the Tigers and contribute to the team's success.
Ellen recently moved to Dallas and is excited to be a part of the Dallas Arsenal family
Phone: 719-641-4163
Email: Ellendreyer3@gmail.com
Tournement Schedule
| | | |
| --- | --- | --- |
| New Years Classic | Jan. 4-5 | DFW |
| MLK | Jan. 11-12 | DFW |
| Earlybird | Jan. 25-26 | DFW |
| Nike | Feb. 1-2 | DFW |
| Triple Crown Invitational | Feb. 15-17 | Kansas City |
| NTI | Mar. 7-8 | DFW |
| SCVA Red Rock Rave | Mar. 28-30 | Las Vegas |
| Northeast Qualifier | Apr. 10-12 | Philadelphia |
| Lone Star Classic | Apr. 17-19 | Dallas |
| NTR Regionals | May 2-3 | DFW |
| USAV National Championships | June 25-July 4 | Dallas |